Reasonable Doubt: Why the media won't shut up about Todd Newmiller and why he deserves a new trial.
June 08, 2006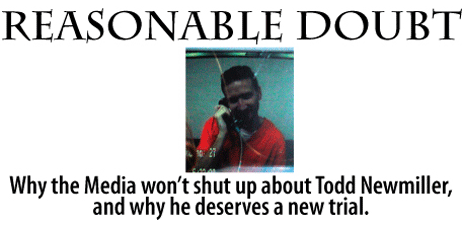 Since Todd Newmiller was convicted of second degree murder for the stabbing of Anthony Madril outside of the Appaloosa Gentlemen's Club on April 24, there has been a flurry of articles about the many contentious details of the case. The Gazette has given the case its fair share of ink (here and here), and Rich Tosches at the Denver Post wrote a long piece about the ordeal. The High Plains Messenger also reported on the case when Newmiller was sentenced to 31 years on May 24, and we've learned the Colorado Springs Independent is also apparently writing a story.

As much as both families certainly long for justice and closure, it's clear from the amount of media attention focused on inconsistencies in the evidence and testimonies that the matter is far from settled. The Newmiller family has made their intention to appeal clear. There has also been a near deluge of heated blog commentary at www.nprophet.com.
Rather than try to recast the stories and events that have already been written about the Madril murder, we have put together a brief outline of some of the more cogent reasons why, based on our investigation, Todd Newmiller's investigation and trial were deeply flawed. This includes a new statement from one of the jurors on the trial who admitted that the guilty verdict may have been based on a misinterpretation of the meaning of "reasonable doubt", and by extension, the presumption of a given suspect's innocence. The outline:
1) Nobody witnessed Todd Newmiller come remotely close to the victim. Nobody saw Todd contact Madril, and nobody saw him stab Madril or make anything close to a stabbing motion until he slashed their truck's right rear tire.
2) In interviews conducted later on the day of the stabbing, Chisum Lopez and Charles Schwartz practically exonerated Todd. According to Schwartz, Lopez exited the truck first, too late to hear Madril, still in the truck, proclaim, "I've got a fucking knife, let's go!" In the same set of interviews, Lopez says that as soon as he exited the vehicle -- well before Madril, according to Schwartz -- he remained focused intently on Newmiller. There may have been blows exchanged between the two -- Newmiller had cuts on his face, which he claimed in a phone call were from Chisum's ring. This would explain the blood on Newmiller's clothes, none of which, DNA tests found, belonged to Madril. No blood was found either in Newmiller's pockets or in the truck's right rear tire, which he admitted to slashing with his knife, the same knife that allegedly was used to stab Anthony Madril.
4) Also, Madril had fresh cuts on his hands that investigators said were consistent with defensive wounds often seen on stabbing victims who have tried to wield off attackers. If Todd had wielded the only knife that night, he would not only have needed time to stab Madril once in the heart, but to swipe at and contact him a few times. The prosecution suggests that the stabbing happened in a matter of split seconds -- a short time for a completely unseen stabbing, and a likely physical impossibility for a knife fight.
5) According to most witnesses present, another man, Brad Orgill, was engaged in a fierce melee with the victim in front of the car. Schwartz described the two lunging at each other and pulling on each other's shirts. At an interview conducted near the crime scene, an upset Schwartz went so far as to say, according to the discovery file, "something to the effect that the big, bald guy stabbed Anthony." (p. 45) He was not referring to Todd Newmiller.
6) The Newmillers claim they were told that their sons would become suspects rather than witnesses if they did not give statements before receiving legal counsel. This statement, if true, would imply an atmosphere of coercion in the murder's investigation.
7) Perhaps the most compelling reason why Todd Newmiller's conviction should be reconsidered came out during an HPM interview with one of the jurors (who spoke only on condition of anonymity) in the trial the day before Newmiller's sentence was handed down. If this statement reflects the entire jury's perception of their mandate, then the jury failed to understand the basic concept of reasonable doubt.*
High Plains Messenger: You said something earlier, which was that you believe beyond a reasonable doubt that [Todd Newmiller] could have done it.

Juror: Yeah.

HPM: Was that really the question of the trial, or was it proving beyond a reasonable doubt that he did do it?

Juror: Oh, that's the point you're trying to make there? That's... the first one. That was the thing: could he have done it? Could he have done this --

HPM: -- well, I don't think it was ever --

Juror: And we were like, yeah, he could have done it. And this is how he could have done it, and that's how we came up with our conclusion.

HPM: Oh, so you convicted him just based on the fact that he could have done it?

Juror: There was no proof that he actually... I mean, that wasn't the question. The first question was the right one, the one you asked.

HPM: So, the question was, "Could he have done it?" Not, "Did he do it?"

Juror: Right.

HPM: OK. (pause) Is... do you think that beyond a reasonable doubt that --

Juror: -- he could have done it? Yeah. I mean, that's where we're at. I mean, that's...

HPM: Do you think beyond a reasonable doubt that he did do it?

Juror: What's that?

HPM: Do you think beyond a reasonable doubt that he did do it?

Juror: I... I don't know, man. I don't know if I can answer that. I can't... I just can't say that there's enough evidence in this case to go any other way.
There's no other way the case could have gone except, of course, not guilty for lack of evidence. It goes without saying that, if the criteria were "could" rather than "did," that the forensic evidence would also implicate Orgill, and perhaps everyone else present -- also beyond any reasonable doubt.
This discrepancy in terms explains, according to the juror, why the deliberation took only nine hours; as soon as they had convinced the last, reticent juror that Todd had opportunity to stab Madril -- that he "could have done it" -- they rendered their verdict: guilty.
Does any of this mean Todd Newmiller is innocent? Of course not. The forensic report, released about a year after the stabbing, concluded that neither Newmiller nor Orgill could be ruled out as suspects. However, Orgill had been given a plea bargain by the District Attorney's office, and was not under investigation. He was ruled out, in fact, before the physical evidence had even been opened.
Yes, Todd could have done it. Todd could have done it. But before a young man spends the next 31 years of his life in prison, he deserves to face a jury that can prove beyond reasonable doubt that he did it.
As of press time, neither Chisum Lopez nor Charles Schwartz have responded to requests for interviews. Brad Orgill declined comment.

*The jurors have all since been contacted by Newmiller's attorneys, and all refused to sign affidavits, and stood by their verdict.
Full disclosure: Todd Newmiller's friend Craig Richardson sells advertising for the High Plains Messenger.